Distillery & Tasting Lounge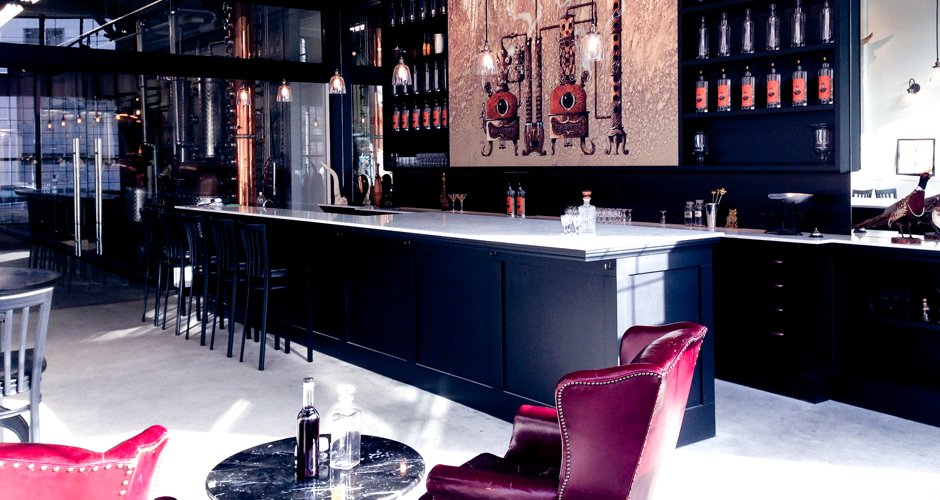 Tasting Lounge
---
Tasting Lounge Hours
Thursday 1-10 pm
Friday & Saturday 1-11 pm
Sunday 1-6 pm
Sample the Odd Society's family of spirits in our Tasting Lounge or purchase a bottle to take home to enjoy at your leisure.
The Odd Society's tasting lounge was designed to represent the soul of Odd Society—warm and welcoming, but out of sorts and charmingly unusual.
The centerpiece of the tasting lounge is a massive painting by local East Van artist, Shwa Keirstead that imagines the stills as a phantasmagorical mashing of beasts and spirits to define the unworldly character of the Odd Society.

The tasting lounge is separated from the distillery by floor-to-ceiling glass walls so you can consider the art and science that went into the creation of the fine spirits you are imbibing. The friendly staff behind the bar are happy to elucidate the finer points of the process for you, or just pour you another sample if you'd prefer.


Housed in a converted motorcycle garage on Powell Street in East Vancouver, Odd Society is well situated in a happening craft liquor community, with neighbours including Powell Street Brewery, Parallel 49 Brewing Company, Storm Brewing and Coal Harbour Brewing.
We now serve our signature cocktails, created in partnership with local mixologists to explore and celebrate the unique qualities of our family of spirits.
Distillery
---
What it means to be Craft
Odd Society is proud to be a true craft distillery.
Being craft-certified means that Odd Society Spirits are:
∗ Fermented and distilled on site
∗ Made from 100% BC agricultural products
∗ Produced using traditional methods
∗ Distilled in small batches
It also means we can sell our spirits directly to you from our on-site tasting lounge. While the tradeoff may be that you won't see Odd Society spirits in the BC Liquor stores anytime soon, we think the commitment to quality and locality is worth it.

The Stills
At the heart of Odd Society are two beautiful 350–litre copper pot stills made by Arnold Holstein in Germany, as well as a 15-foot vodka column.
European Heritage, Modified for Experimentation
The 30-year old pot stills were previously used by a Swiss distillery to make fruit schnapps and liquers that are used in many famous Swiss chocolates, but have since been extensively modified so they can make Odd Society's unique gin, vodka and whiskey.
By removing the old column from one of the stills and replacing it with a domed, bell top allows us to pursue single, traditional-type distillation techniques.
A Unique Combination of Gin-Making Traditions
We have also added a gin basket between the still and the condenser that will ensure that the delicate botanicals we use won't get boiled in the distillation process. Instead, they will be placed in a stainless basket between the still and the condenser so the botanicals are bathed in vapours to gently extract the oils without destroying them.
Our gin distillation method will macerate some botanicals and use vapour extraction for others. This unique combination of methods will produce a one-of-a-kind spirit.

The Vodka Column
The addition of the 15-foot vodka column will remove the majority of impurities from the distilled wash to create a pure, crisp alcohol, while still maintaining the characteristics of the underlying raw grains—in East Van Vodka's case, the malted barley.
Together, these modifications result in a system that is incredibly flexible and capable of producing a wide range of high-quality spirits.
Water recycling system
Meanwhile, all the water we use is cooled and recycled via a large cooling tower located on the roof. It takes the hot water from the condensers and runs them through a set of air-cooled coils before piping it back into the building where it's stored in a tank, ready to go through the condenser again.
Normally distilleries waste thousands of litres of water in each distillation, but our recycling method vastly reduces the waste, energy usage and costs.